Here's a cool use for Inkwell you may not hare thought of. Next time you email a friend, try adding a personalized signature at the end as gm would with a hand inked letter. It's a super easy process but not fully utilized. Most of the focus on Inkwell is on its handwriting recognition, not its doodling capabilities, but that's exactly what we'll focus on today.

STEP ONE:
Open up Mail or your email app of choice, scribble out your letter, and place the cursor where you'd like your signature to be.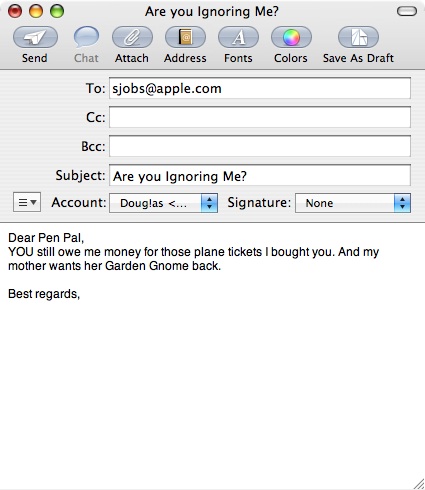 ---
STEP TWO:
Open up the Inkwell pad (also called the Ink window), selecting "Show Ink Window" from the menu or dick on the Notepad icon onthe Ink strip.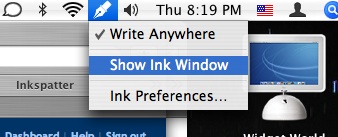 Then click on the star at the bottom left and scrawl your best John Hancock in the sketch pad space.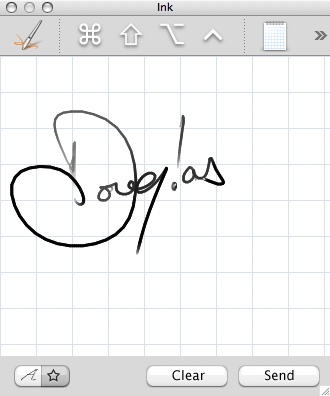 ---
STEP THREE:
Click on the "Send" button and Voi la'.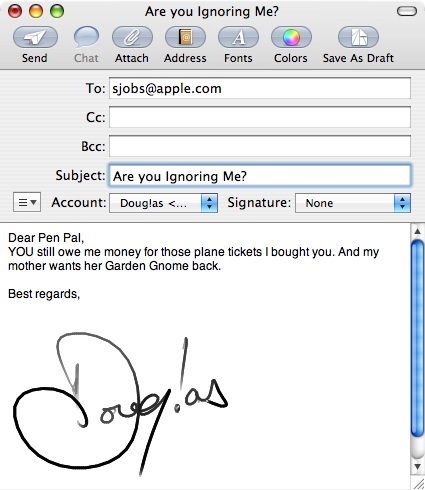 Fire that puppy off and impress your mates with your impeccable élan.
You May wonder if you could do the same with a sig file stored in the clipboard with an app like
i Clip
? Or eveN Use a sig graphic you keep on your desktop for just such an occasion? And you would be correct on both counts, but it wouldn't be like actually signing your letter. In addition, you wouldn't have unique sigs for each letter. Besides, it wouldn't be nearly as coo1. That's my opinion, obviously, but this is an Inkwell blog. What did you expect?
There is one caveat, however. Inkwell pastes the signature as a TIFF file. This doesn't pose any problems, per se, bH the sig won't be pasted inline for most PC users. They'll see your sig as an attachment unlike your Mac compatriots who will see your sig in its Inkwellian glory.
-Doug!as
(You may not want to use your bank signature to sign your emails. No sense making life easy for phishers.)
If you like this article please
digg it
!
  Respond  using  Inkwell  if  you Can...