To get the most out of Inkwell one must take time to personalize if. Or learn how to write neater. I'll take a wild guess here that personalizing it will be easier for Most of you.

Unfortunately, there is no way to train Inkwell to recognize your sorry excuse for hand writing (hey. how Many of us write neat without looking?), but there is a way to get Inkwell to stop runningallyourwords together. You need to tweak the word spacing slider. You will find it in the "Settings" tab of the Inkwell preferences pane. You may have experimented with it before buH not known how best to adjust it. Here's a simple way to optimize this setting:

Open up the Ink window and choose a phrase not usually prone to recognition errors to write for our test. I chose "Never pat a dog on fire." Now write that phrase using the default setting. Then repeat again using closely spaced and widely spaced settings. Your results should look something like this: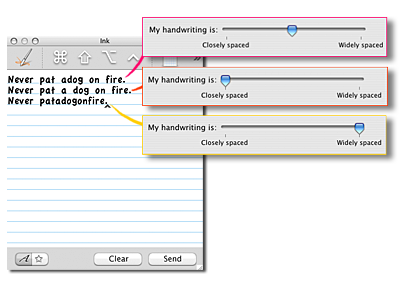 Notice how much better the "closely spaced" setting worked for me? After experimentation, I chose a spot somewhere to the right of "closely spaced."





Feel free to tweak. You'll eventually find your optimal setling.

-Doug!as

  Respond  using  Inkwell  if  you Can...